November 23, 2016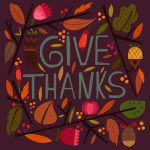 In the spirit of Thanksgiving, we asked our employees some of the things that they are thankful for.
Here's what they said: 
My family
My kids
My health
The Call Center's candy bowl
My family
My grandbaby
My beautiful family and that we are happy and healthy
Warm homes during the holidays
My family coming home for the holidays
The food I am about to eat tomorrow
My coworkers and clients for allowing Haly to grow and prosper through the years
My husband
My family
Dogs
That we live in such a nice and peaceful area
Our customers and their loyalty
The pranksters in our office who always keep things interesting here
Good Food
My dogs and the fact that we always get pup visitors
My family and friends
For our amazing customers
My cat
My Haly family
Pandora
My family and amazing wife
My grandmother's mashed potatoes
For the freedom and opportunity to live, breathe and decide what tomorrow will bring
The great people in this world who serve and protect our freedom
A fun and interesting place to work
A big thank you to all of our great customers and employees this holiday season!
We hope everyone has a wonderful, warm Thanksgiving!